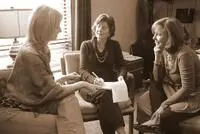 Welcome
We are a professional therapy and coaching center serving the Chapel Hill, Raleigh, Durham and surrounding communities. Clinicians use a strengths based approach to support individuals, couples and families to develop strategies for coping with life changes and creating choices.

Consultation and training is provided to organizations and businesses who seek to deal with interpersonal issues, succession issues, family business challenges, and to inprove communication skills among members and employees.
Leadership training and workshops provide useful tools for individuals in leadership roles.
Our focus includes:
• Individual and Family Therapy: easier and more effective ways in handling conflict, changes and transitions in family structure, improving communication, and strengthening relationships between parents and children.
• Couples: increasing connection with your partner, providing premarital support and support for families coping with divorce.
• Children and Adolescents: tools for building self-esteem, support for coping with divorce and strategies to make positive choices with peers. Interfacing with school officials as needed.
• Young Adults: tools for developing healthy peer relationships, support during the transition to college and strategies for dealing with stress.
• Workplace: creating effective ways for dealing with transition. We provide support for all of our clients who are faced with chronic illness, depression, anxiety and other emotional issues.